Lingerie spring cleaning tips
The weather is starting to warm up and we are all anxiously awaiting Springs arrival by doing some cleaning. Out with the old in with the new! Chance are we have forgotten to clean out one very important drawer, our lingerie one. Undergarments are worn daily and usually for hours, and though we may not realize it, our undergarments can make or break an outfit. So we want to make sure that the condition and fit of our pieces are always up to par.  Its time to go through all our lingerie and decide which pieces are worthy of keeping and which ones need to be tossed. Here are a few tips on how to make this tough decision.
Say goodbye to your Bra if:
The band or straps are stretched out

The cup has lost its shape or looks dimpled

The wire is warped or 

protruding

The appearance of the bra seems faded or rough
Say goodbye to your panties if:
It has a hole, no matter how small

Any stains

Is too tight or loose

If the stitching on the elastic is missing
If your bras passed the condition test now its time to check to see if they fit properly. A proper fitting bra means that you are not spilling out of the cups and there is not gap. The correct band size means the band is snug but not tight or loose, a bra too big in the band will ride up your back. You can test this by raising your arms straight up and if the cup doesn't move your bra passes the test, but if your breast is visible under the wire, I'm sorry but its time to say goodbye. If you find the testing overwhelming please make an appointment with one of our personal lingerie stylists  who will be more than happy to help you test your bras from home as well as helping you find some new pieces to incorporate into your lingerie wardrobe. The perfect fitting undergarments will make  your clothes look fabulous. 
Here are a few of our favorite organizing ideas: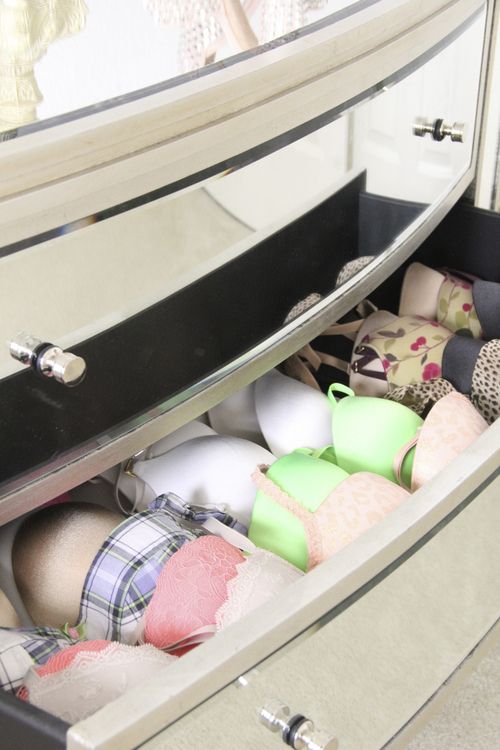 Properly caring for your bras will make them last longer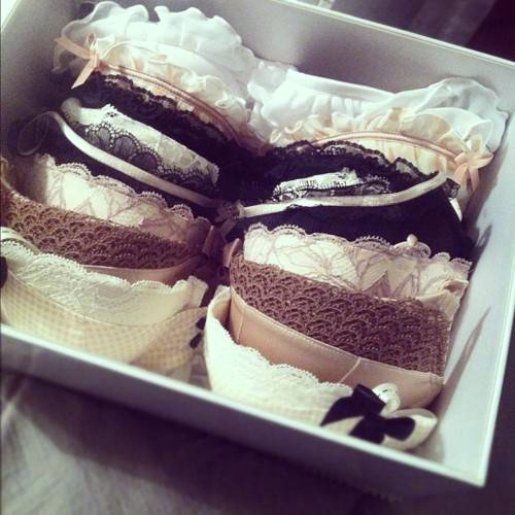 Placing bras in a row keeps the bras from loosing their shape and lets you have a full view of all your pieces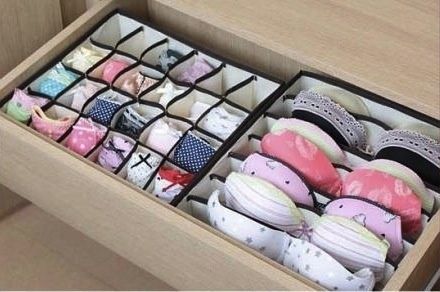 We love how this lingerie storage has a space for every panty while still keeping all bras visible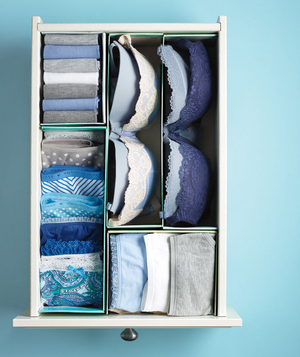 Now that  you have chosen which pieces you will keep remember to care for them properly. In order for your molded bra cups to keep its shape, store them in a row with similar bras, folding the cups into each other will create dimples or creases.  Wash your pieces by hand to expand its life, if you decide to toss your lingerie in the washer we suggest you use the delicate cycle and a lingerie bag and then lay flat and let air dry. Same goes for panties.
All clients are treated to a complimentary professional bra fitting by our "Certified Fit" staff. You can set up an appointment by calling us (203)433-2023 or email us: info@beneaththegown.com
xoxo,
BTG Team