The Truth About Molded Bras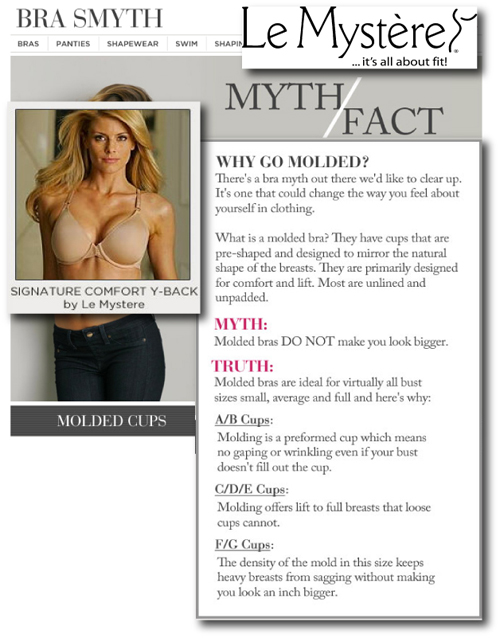 Le Mystere weighs in on the the truth about molded bras and why it is a myth that they make you look bigger.
Why Go Molded?
There;s a bra myth out there we'd like to clear up. It's one that could change the way you feel about yourself in clothing.
What is a molded bra?
They have cups that are pre-shaped and designed to mirror the natural shape of the breasts. They are primarily designed for comfort and lift. Most are unlined and unpadded.
MYTH:
Molded bras DO NOT make you look bigger.
TRUTH:
Molded bras are ideal for virtually all bust sizes small, average and full and here's why:
A/B Cups:
Molding is a preformed cup which means no gaping or wrinkling even if your bust doesn't fill out the cup.
C/D/E Cups:
Molding offers lift to full breasts that loose cups cannot.
F/G Cups:
The density of the mold in this size keeps heavy breasts from sagging without making you look an inch bigger.